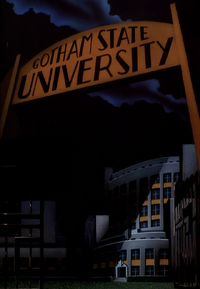 Gotham State University, also known as GSU and Gotham University, was the first and primary university of Gotham City.
History
The university was founded in 1898, and quickly became a highlight in national academic education. It is home to its own bank and also houses a museum with a priceless art collection. GSU's primary sport is football, though it also participated in other sports such as high end gymnastics.
During a whole season, the University was target of several attacks from former professor from the institution, Jonathan Crane, under his new alias of Scarecrow. Using hired help, Crane stole from the university's bank and he kidnapped Dr. Long, the man responsible for his expulsion from the institution.[1]
Staff
Alumni
Appearances
Feature films
References